Photographic diary
Sometimes a sculpture takes a long time to complete. I started this pear tree in the spring of 2018, and I'm delighted that it has now finally been finished and found a permanent garden to grow in!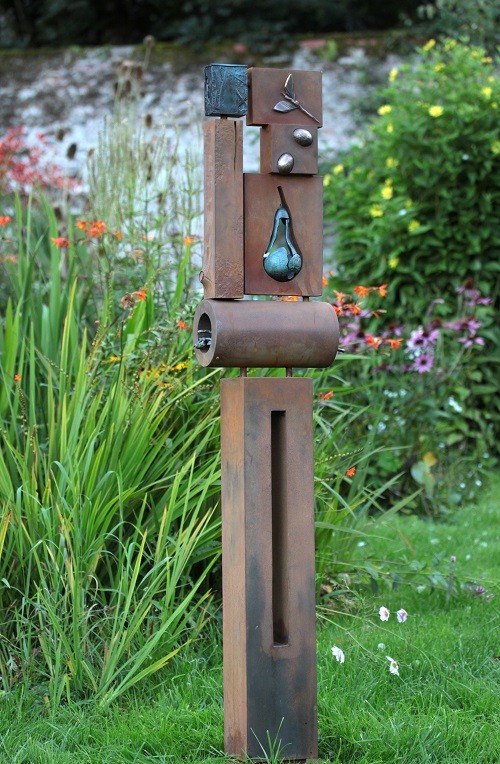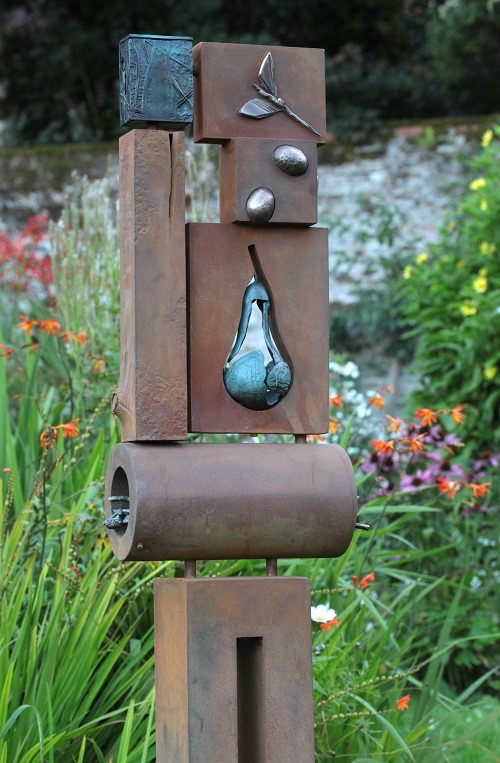 A tree vocabulary
I often end up getting inspired by the woodlands surrounding us here at Russborough House where our studio is based. Over the years I have developed a creative rutine; I gain visual inspiration on walks, often resulting in ideas on which I will not allow myself to ponder for too long, in order to retain the original flash of inspiration… The trees revealed themselves to me as inspirational for the first time during a winter where the dramatic trunks were exposed fully.
The winter ideas were structural in nature, joints, texture, bark, building-block-type components like trunk, branch and cone. Angular cut-outs in angular shapes. Just look at the fabulously dissected beech trunk below, wouldn't it be thrilling to build the tree up again vertically?
The pear tree grew out of my winter-tree vocabulary, but a couple of springs passed before it had fully grown ? Its easy to forget this process, so Im happy I took these photos.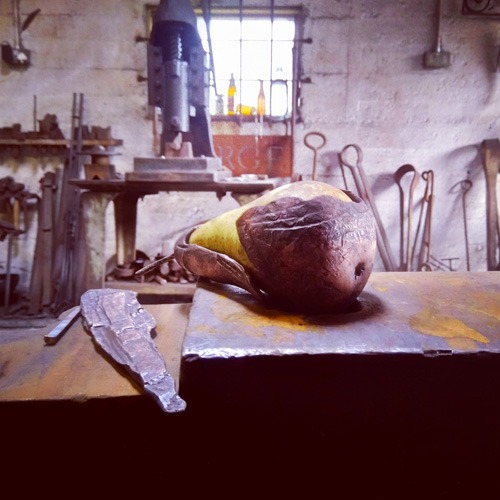 'For me a sculpture usually arises from just a glimpse of something – a purely visual experience, often incomplete, out of the corner of the eye, and not quite grasped or understood. I think it is the very lack of understanding of what I have just seen that fixes the image so powerfully in my mind. That said, it will be a glimpse which I have been waiting for, giving me the way to something I have sought for a long time.'
From Connor Fallon's diary 'Thoughts on Sculpture'.
The Built
I find it easier to explain my sculptural work since I started writing poetry. I have no formal training in either field, so this is simply personal and by no means an attempt to be clever on behalf of other poets or sculptors :
In a poem each word – or sentence – is assessed for its poetic value or ability to produce a certain feeling. The same is true about a 'built' sculpture such as the pear tree. Either can be assembled from components that have a relation – or an opposition – to one another, and constructed in a pattern to generate verbal rhyme or visual rhythm. Creating a poem – or a sculpture – gives me an excuse to focuse on what seems like detail (detail is the fabric of life!) A visual or verbal flash of inspiration brings stimulation to things that may otherwise be overlooked; it feels like finding a hidden layer – a playful transaction-less world where shapes and words are free and ample.
2020 Vision (for Russborough)
The night has left
a hawk's kill by the wall
the tarmac takes
and leaves
the feathers
no one cares
for empty spaces
Paths weave and
get a wash
by rain unseen
they long for feet
ideally
more than two
Buds burst
break their quarantine
and turn from yellow
to pale white
then fly away
in dream
The vacant house
I hear it yearn for daylight
through the wood-clad
panes of glass
the dead bolts firmly
keeping in the voices
of the past
Gunvor Anhøj (written during lockdown 2020)