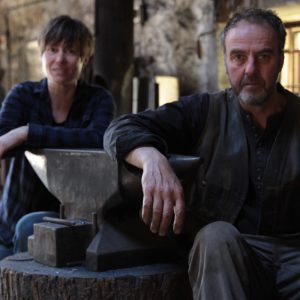 Husband and wife team Michael Calnan and Gunvor Anhøj have forged a small business with a big reputation from iron, steel, bronze, and copper.
We are award-winning sculptors of metals, our current studio is based in the beautiful demesne of Russborough House, Co. Wicklow, Ireland. We have a collection of indoor and outdoor sculpture on display at our atmospheric Forge and Gallery, which is open to visit all year round by prior appointment.
Our speciality is forged bronze and cor-ten steel sculpture for the garden. We have been creating for 20 years, going back to the time when we simultaneously fell for each other as well as for our craft. As George Bernard Shaw once said, 'Imagination is the beginning of creation. You imagine what you desire, you will what you imagine, and at last you create what you will.' Setting off on our adventure after art college finished, we conjured a joint vision of artistic metal sculpting, which we have been building on ever since.
Our sculpture can be found in many private collections around the world and public collections include The Irish State Art Collection, The Department of Foreign Affairs, The Office of Public Works and The Crafts & Design Council of Ireland's Permanent Collection. Our awards include The 2015 Mill Cove Award, The National Craft Awards 2011 & 12. The Crafts & Design Council of Ireland's Purchase Award 2012 and the Stanley Allcard Award in 1998.