Public Seating and Durability
With public art and public seating, the concern is often durability. During a recent visit to Dickens Heath in Solihull, UK, it was great to see that the seating we made 12 years ago still look exactly the same as when they were installed. Calnan & Anhøj were commissioned by Sisk & Son UK in 2006, to create seating for the waterfront at Dickens Heath new village which adjoins the Stratford Canal. The seats were made from forged and fabricated steel, which was hot-dip galvanised, a very durable combination. Irish / Danish design duo Michael Calnan & Gunvor Anhøj also specialise in forged cor-ten steel and forged bronze.
Dickens Heath – not just another development
Only three miles from Solihull town centre, Dickens Heath new village, consists of 1672 dwellings and is the home to a population of about 4,000 people. From the outset, Solihull Council decided that Dickens Heath would be special and wouldn't be just a large housing estate in the country. The Council decided that the new development would be based on the model of a traditional village, made up of shops, offices, restaurants, and homes as well as a school, library, village hall, doctors' surgery, pub, village green and country park. The first phase ('Market Square') of this prestigious mixed use development, included the construction of 117 apartments, and 26 retail units centred around a High Street. The second phase 'Waterside' was completed in 2006 and included a selection of office, retail and luxury apartments fronting onto a contemporary styled water feature and canal quayside.

The Design Brief
For this design brief we felt it was appropriate to make models. Most designs involved a slab-like seating area, somewhat cantilevering off sturdy forged elements at ground level. The idea behind the cantilever seat originated from our years in Art College, where Michael's final brief involved a seemingly precarious perch. The seat involved just two components, each weighing over a 100 kg, cantilevering off each other in a strikingly pure composition. Such arrangements makes one analyse the simple act of sitting down, something we usually take for granted.
The Making
We enlisted the help and expertise of artist blacksmith Alan Evans. A man with an extensive portfolio of contemporary works, to mention but one the spectacular Saint Paul's Cathedral treasury gates in London (1980).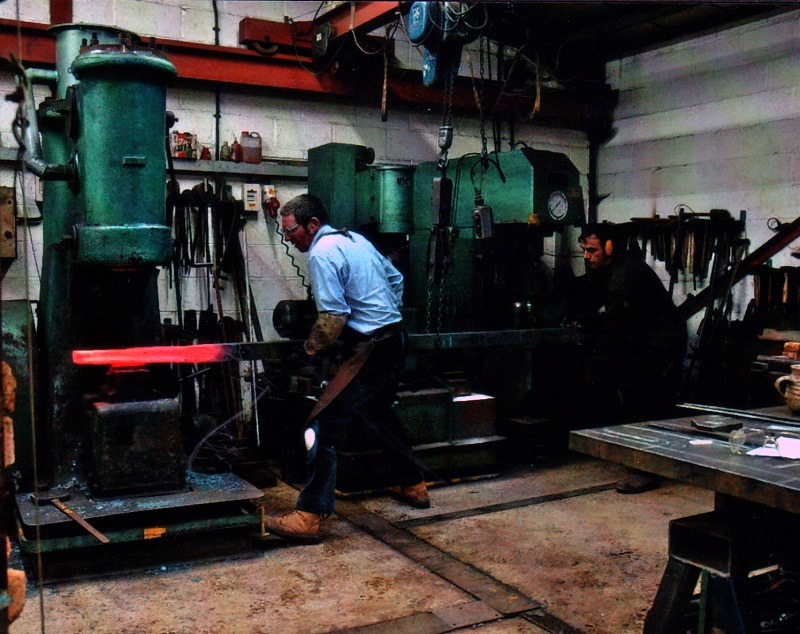 Transforming the models into seats. Michael and Alan at work at Alan's workshop in Whiteway, Gloucestershire.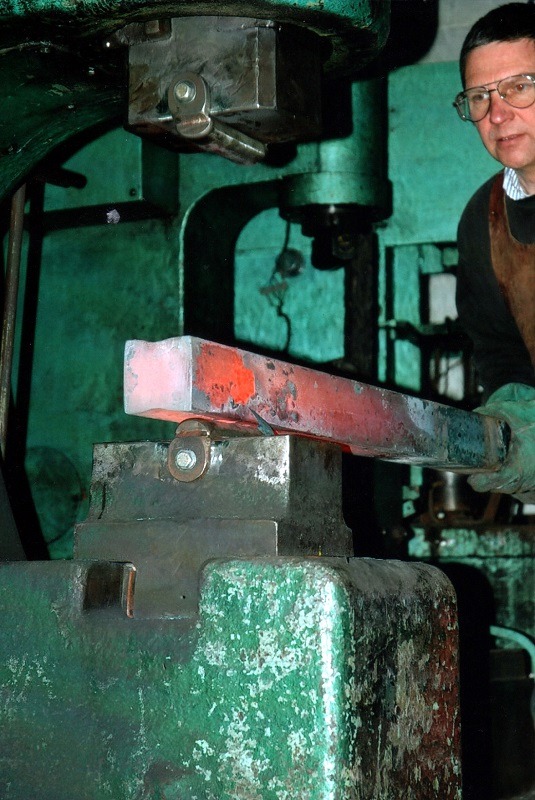 Alan Evans using his power hammer to forge a taper. Forging can produce a piece that is stronger than an equivalent cast or machined component.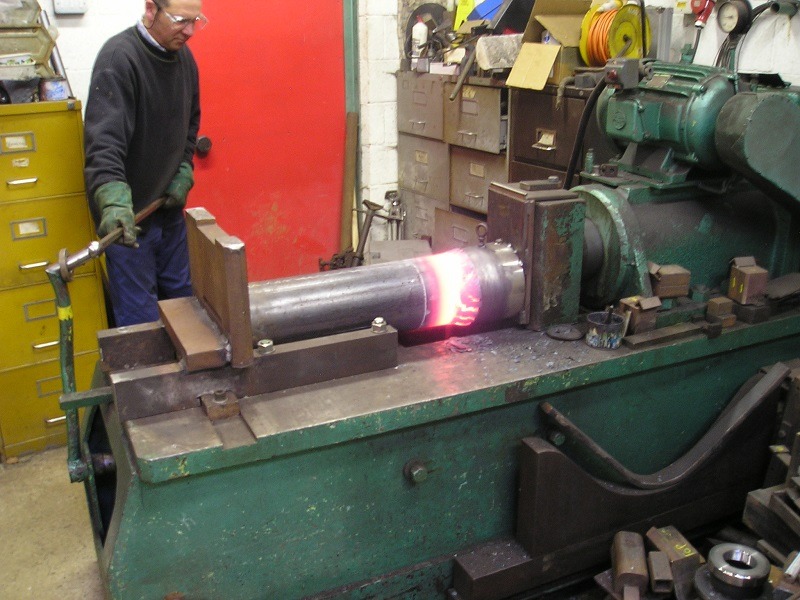 Using a press to create the mooring-post-type elements of the benches.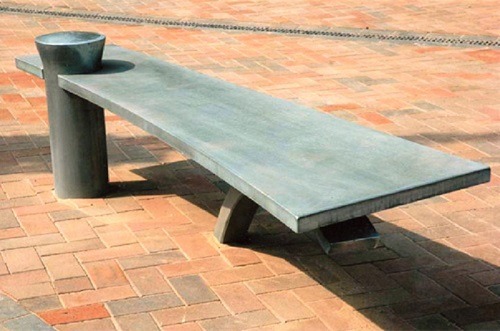 One of the finished benches installed at Dickens Heath New Village, Solihull, UK 2006.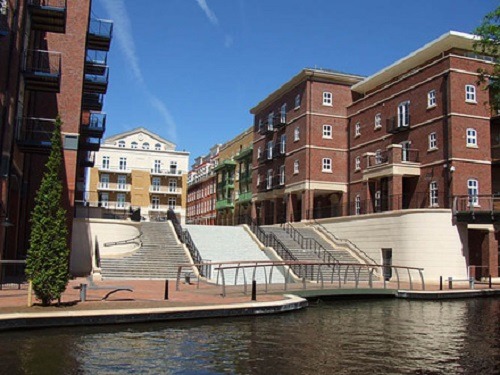 Three seats in the foreground. Dickens Heath Waterfront.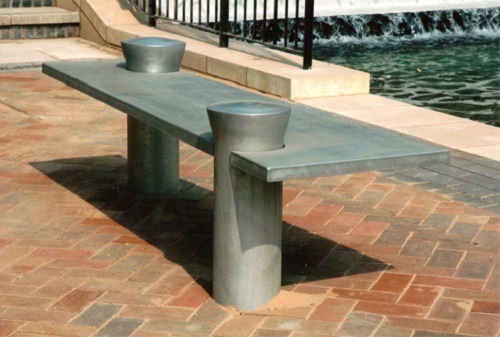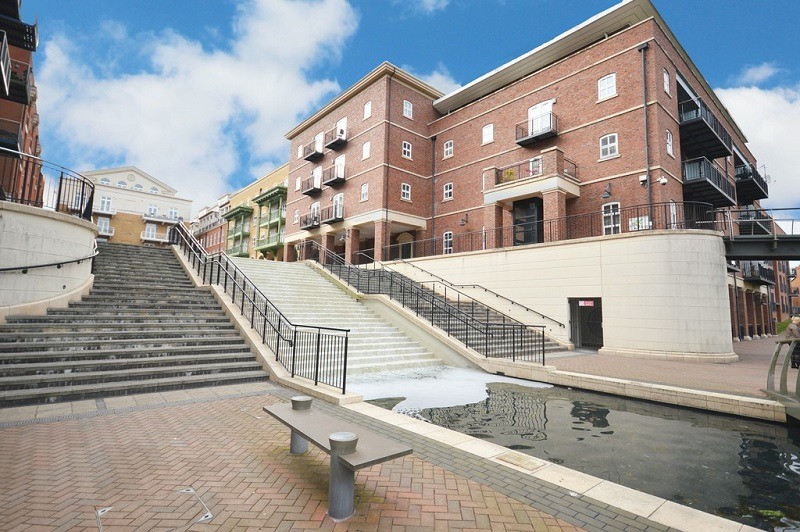 Barry Chinn Associates were the architects involved in the development of the Village Centre at Dickens Heath from its original conception through to completion. The challenge was 'to unify the development and give a clear identity to the public realm through the use of imaginative hard and soft landscape solutions'. The Waterside development was the winner of the 'Best Mixed Use Development' category for the UK Property Awards 2009.