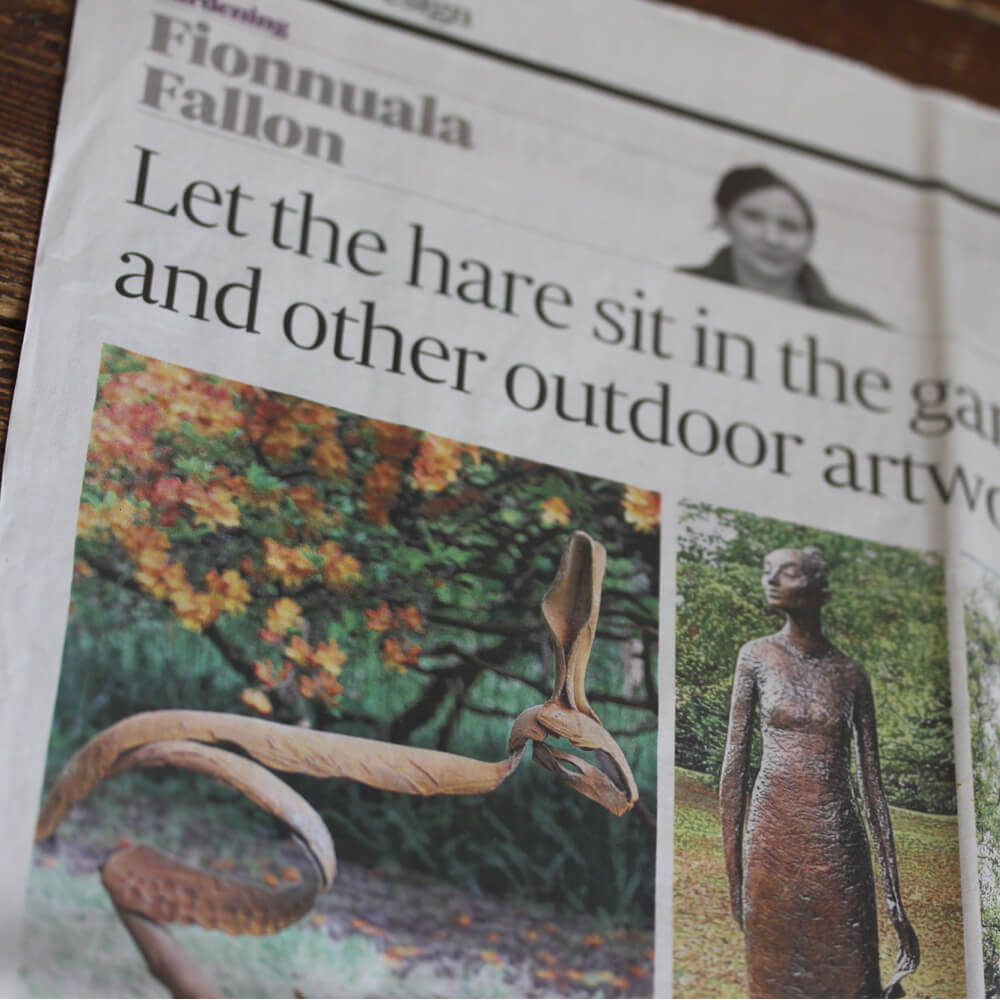 Let the hare sit in the garden and other outdoor artworks
Outdoor art should have a place in almost every garden – no matter what its size
Irish Times Home & Design section, Sep 30 2017 by Fionnuala Fallon
Is your idea of the perfect piece of garden art something along the lines of a classic bronze sculpture? Or do you prefer the idea of something slightly more kooky (some might say kitsch) like a vintage cast-iron garden gnome? Maybe you dream of turning your lawn into your very own contemporary landform sculpture a la the British artist Charles Jencks? Or enlivening it with a giant mobile in the style of the American kinetic artist Alexander Calder?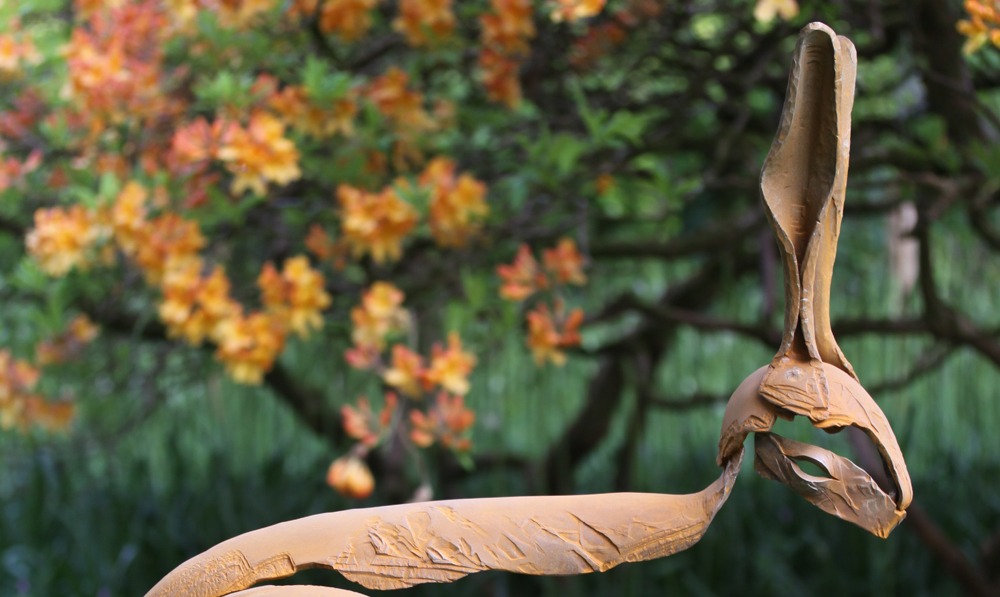 Whatever your personal preference, the truth is that outdoor art should have a place in almost every garden, no matter what its size. Chosen with care and positioned with thought, even the most humble piece has the ability to add atmosphere, personality, charm and even an element of humour, to invite conversation and to serve as a handsome focal point. The best can also create a sense of place, magically echo the contours and colours of the wider landscape and bring out the best in any planting scheme by using it as a leafy foil while providing the perfect contrast of texture and form. The trick, of course, lies in choosing a piece (or pieces) of outdoor art that will give you real joy. Where to find it? If you feel in need of some inspiration, then a good way to start is by paying a visit to some of the galleries, outdoor art exhibitions and sculpture parks located around the country. One well-known example is Sculpture in Context, the annual contemporary outdoor art exhibition currently on display in the grounds of the National Botanic Gardens in Glasnevin (sculptureincontext.com, until October 20th).
Another example is Crux, the travelling exhibition of five Irish-based artist metalsmiths including Danish-born Gunvor Anhoj, Michael Calnan, John Hogan, Jane Murtagh and Moss Gaynor exhibiting at Siamsa Tire, the National Folk Theatre in Tralee, Co Kerry next month (siamsaatire.com, 2nd-27th October) .
Outdoor sculpture parks or public gardens to visit include the remarkable Lough Boora Park in Tullamore, County Offaly, the Irish Museum of Modern Art (imma.com), Kildare Gallery at Carton House in Co Kildare, Lismore Castle in Co Waterford (lismorecastlegardens.com), and the family-run Burtown House in Co Kildare (burtownhouse.ie ). Mill Cove Galleries Sculpture Garden in dest Cork, Shekina Sculpture Garden in Kirikee, near Glenmalure Valley in Co Wicklow (shekinasculpturegarden.com) and the Ewe Sculpture Garden in west Cork (theewe.com) are a few more to put on the list. One of the most respected and longest established Irish galleries specialising in sculpture is the Solomon Gallery, now based in Dublin's Westbury Mall and owned/run by Tara Murphy (solomonfineart.ie). Many of the artists represented by this Dublin gallery have work in private gardens both here and abroad and are experienced in collaborating with landscape architects and garden designers. The gallery also offers a consultation and installation service to garden owners in search of the perfect piece of outdoor art. As to what price you can expect to pay for a piece, the answer is something along the lines of "How long is a piece of string?" Work by a younger, less established artist is inevitably going to be far more affordable than one by an artist with an international reputation, while the size of the work and the medium/material being used – bronze, steel, stone, glass and wood are all examples – will also have a significant bearing on the final cost. Prices for work included in the aforementioned Sculpture in Context exhibition, for example, start at a very modest €25 for a glass/ceramic piece by artist Gwyn Grace while some of the large bronze/steel sculptures are between €10,00- €15,000. But in between these two extremes is a lot of reasonably priced work by a range of Irish-based artists. 10 Irish-based artists creating work suitable for outdoors
Gunvor Anhoj: This Danish-born blacksmith specializes in contemporary metalwork and is based in Russborough House where she often works in collaboration with her blacksmith husband, Michael Calnan (Calnan & Anhoj) Eilis O'Connell: This Cork-based artist's large abstract work has won her many private and public commissions including the Reedpod sculpture on Lapps Quay in Cork (eilisoconnell.com) Bob Quinn: A Dublin-based sculptor whose figurative bronze works have featured in several Bloom show-gardens (bobquinn.ie) Patrick O' Reilly: Another contemporary Irish artist with an international reputation, O'Reilly is best known for his very large scale bronze works. (patrickoreilly.ie) Anna Campbell: A versatile artist working in a variety of media, Campbell's smaller-scale bird pieces are very suitable for garden display (annacampbellsculpture/ Facebook) Liam O'Neill: A highly skilled, creative woodturner, Galway-based O'Neill is known for his large-scale, sculptural outdoor vessels (liamoneill.com) Killian Schurmann: Dublin-based Schurmann is a glass artist and sculptor producing three-dimensional pieces and fused glass panels. Eileen McDonagh: (eileenmcdonagh.com) This Sligo-based sculptor works mainly in stone and is known for her large scale, monumental pieces
Imogen Stuart: (imogenstuart.com) A highly respected sculptor, German-born 90-year-old Stuart works in a wide variety of media in what she describes as her signature style of narrative sculpture. Alva Gallagher: Another internationally-recognised Irish artist known for her sculptural glass work , Gallagher's work is in many public and private collections including those of OPW and the National Museum of Ireland (alvagallagher.com)