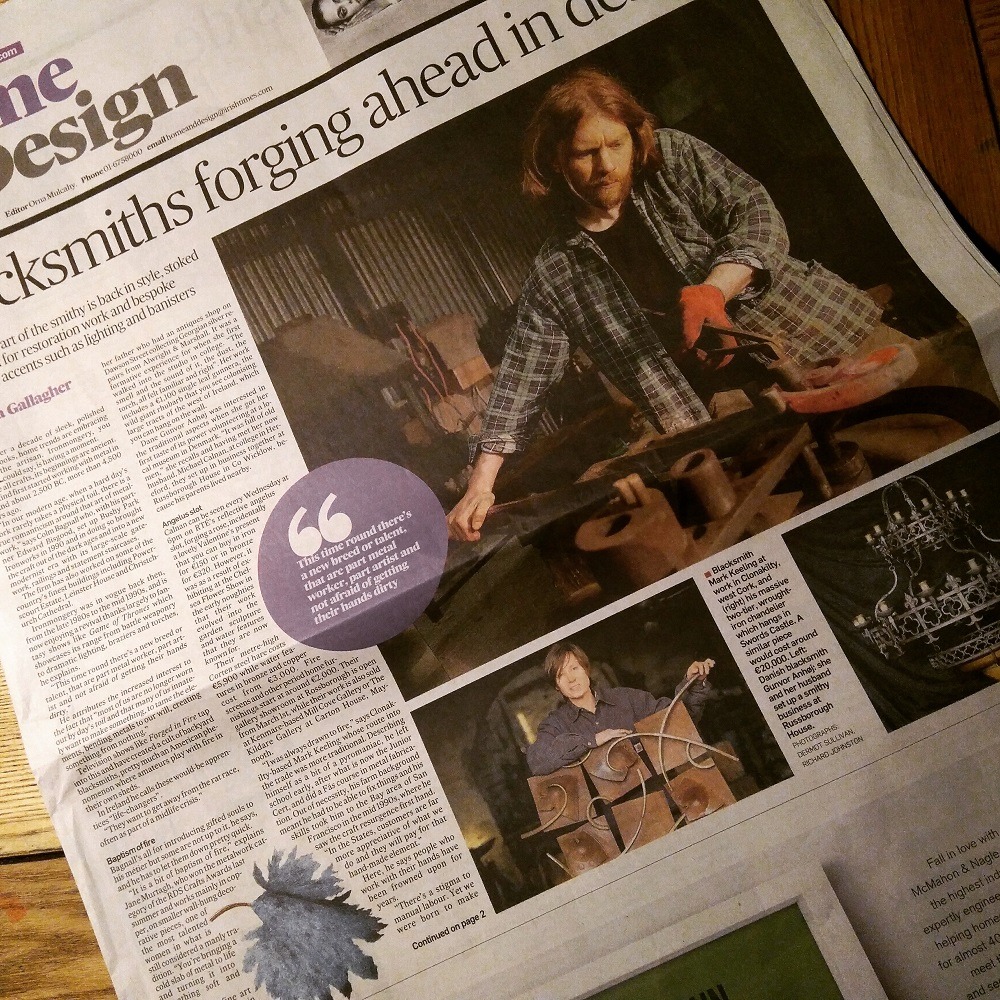 The modern blacksmiths forging ahead in design
The ancient art of the smithy is back in style. Feb 10, 2018 by Alanna Gallagher
After a decade of sleek, polished looks, home trends are embracing the artisan. Ironmongery, you could say, is having a moment. Like all crafts, its beginnings are ancient. Mankind first started working with metal in Ireland about 2500 BC, more than 4,500 years ago.
"In our modern age, when a hard day's work rarely takes a physical toil, there is a true romanticism around that art of metalwork," says Colm Bagnall, a maverick, who with his partner Edward Bisgood, set up one Bushy Park Ironworks in 1990 and in doing so brought the craft out of the dark ages and into a new modernist era with its large scale gatework, railings and statement staircases. The firm has also worked on some of the country's finest buildings; Powerscourt Estate, Leinster House and Christchurch Cathedral. Ironmongery was in vogue back then, from the late 1980s to the mid 1990s, and is now enjoying a revival thanks largely to fantasy shows like Game of Thrones which showcases its range from battle weaponry to dramatic lighting, braziers and torches, he explains.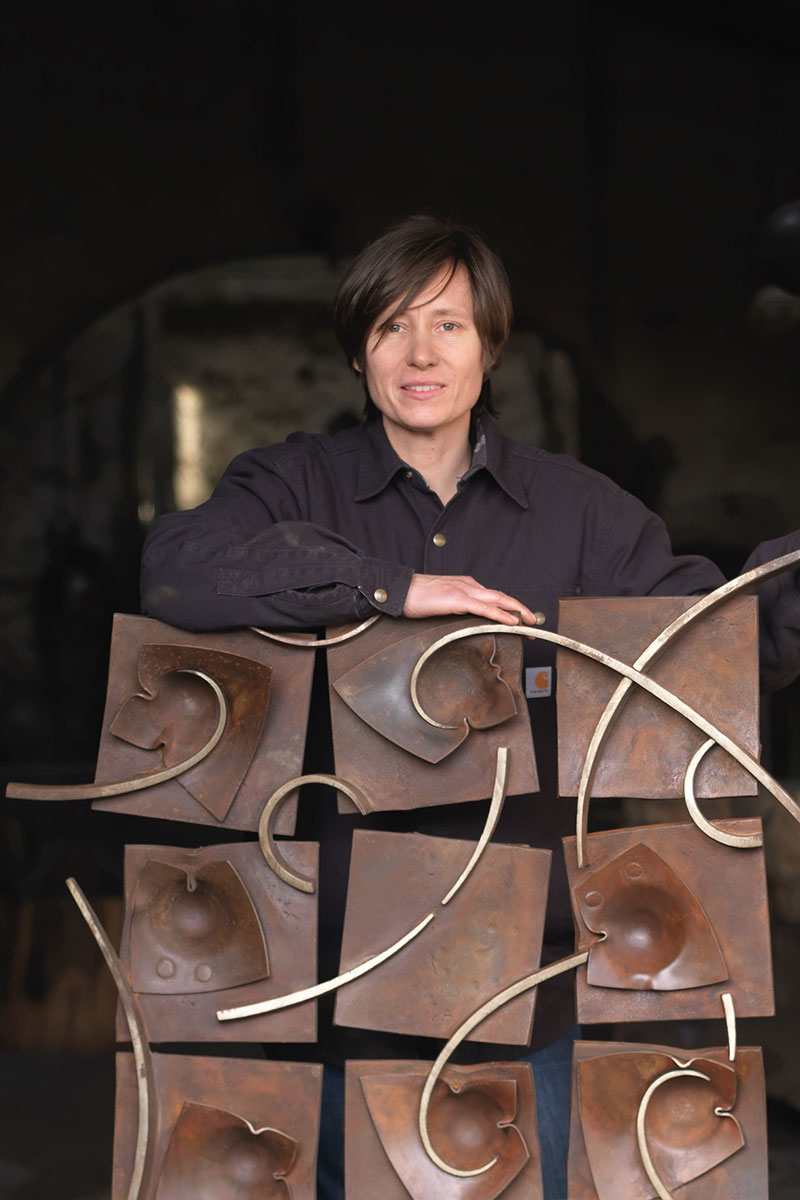 "This time round there's a new breed or talent, that are part metal worker, part artist and not afraid of getting their hands dirty." He attributes the increased interest to the fact that "most of us are no longer worn out by day's toil and that many of us innately want to make something, to tame the elements, bending metals to our will, creating something from nothing." Television shows like Forged in Fire tap into this and have created a cult of backyard blacksmiths, pretty much an American phenomenon where amateurs play with fire in their own sheds.
In Ireland he calls these would-be apprentices "life-changers". "They want to get away from the rat race, often as part of a mid-life crisis." Bagnall's all for introducing gifted souls to his métier but some are not up to it, he says, and he has to let them down pretty quick.
'Bringing a cold slab to life'
"It is a bit of baptism of fire," explains Jane Murtagh, who won the metalwork category of the RDS Crafts Awards last summer and works mainly in copper, on smaller wall-hung decorative pieces, one of the most talented women in what is still considered a manly tradition. "You're bringing a cold slab of metal to life and turning it into something soft and moving." She got her fine art training at art college in the 1970s but as a child she used to run errands for her father who had an antiques shop on Dawson Street collecting Georgian silver repairs from Alwright & Marshall. It was a formative experience for when she first walked into the studio in college. "The smell and the sound of it, the dust, the torch, all felt familiar and right". Her work includes a €1,100 single leaf gunnera, the wild giant rhubarb that you see colonising large tracts of the west of Ireland, that you can hang on the wall.
Angelus Slot
Dane Gunvor Anhøj was interested in the traditional aspects when she got her first taste of its power volunteering at a local museum in Denmark. "It was full of old men," she recalls and having met her now husband, Michael Calnan, at college in Hereford, they set up in business together at Russborough House in Co Wicklow, because his parents lived nearby.
Michael Calnan can be seen every Wednesday at 6pm on RTÉ's reflective angelus slot, which precedes the news, forging a rose, incidentally a lovely Valentine's present that you can buy in iron for €150 or in bronze for €320. However, it was as a result of exhibiting at the Chelsea Flower Show in the early noughties that their work evolved into the garden sculpture and water features that they are now known for. Their metre-high Corten steel hare costs €5,900 while water features in bronze and copper cost from €3,000. Fire screens and other period home furnishings start at around €2,000. Calnan & Anhoj gallery showroom at Russborough is open from March 1st, while their work is also sold at Kenmare-based Mill Cove Gallery or The Kildare Gallery at Carton House, Maynooth.
'Stigma to manual labour'
"I was always drawn to fire," says Clonakilty-based Mark Keeling whose route into the trade was more traditional. Describing himself as a bit of a pyromaniac, he left school early, after what is now the Junior Cert, and did a FÁS course in metal fabrication. Out of necessity, his farm background meant he had to be able to fix things and his skills took him to the Bay area of San Francisco in the mid 1990s, where he saw the craft resurgence first hand. "In the States, customers are far more appreciative of what we do and they will pay for that hand-made element."
Here, he says people who work with their hands have been frowned upon for years. "There's a stigma to manual labour. Yet we were born to make stuff, to play with the elements and in the society we now live in there are very few outlets for that need. Many of us are not content. When I'm in the moment and absorbed by my work, time disappears. A day is gone in a mere blink."
His work is mainly architectural ironmongery; staircase balustrades, fire baskets and restoration of traditional work on historic buildings. Keeling recently completed the murder hole grille at Blarney Castle and his lighting can be seen in the chapel in Swords Castle where three of his chandeliers hang from the ceiling. A two-tier design with a brass pyre vessel that hangs above the alter would set you back about €20,000. He also designs entrance gates which start from €35,000. A brazier will cost from €2,200.
Increased demand for restoration work
While John Hogan of Killala-based Iron Excellence excelled at woodwork in school it was only after school that he "took a chance" on a course in nearby Belmullet in his native Co Mayo. From there he went to Bushy Park Ironworks, creating gates for Birr Castle and railings for Trinity College.
"A lot of people want to get away from the term blacksmith as it is associated with a man working in a small shed with a horse," he says. "But modern forgework is more sculptural than that." His work includes minimalist railings for private houses and parks like the Admiral Brown Park in Foxford, Co Mayo and the seafront in Enniscrone, Co Sligo as well as staircases of all sorts. Prices for the latter start from about €5,000 for a simple, straight, one-storey banister and handrail, up to €25,000 for a curved and highly decorative structure.
While designers are making new work, the rise in popularity is mainly due to restoration work, explains Bagnall. "The number of people who want it done properly is increasing and this also leads to new design work coming through." Do you need brawn to be successful? "I wouldn't put it down to strength. You need to think some too. Certain parts of you do get knocked into shape – you may end up with big shoulders and small legs, but if it's fitness you're after you need to get out and run too he says.
Blacksmiths in Ireland: Bushyparkironworks.com; calnan-anhoj.ie; janemurtagh.com; markkeelingblacksmith.com; ironexcellence.ie; Irishblacksmiths.com; maartenbaas.com; basedupon.com.