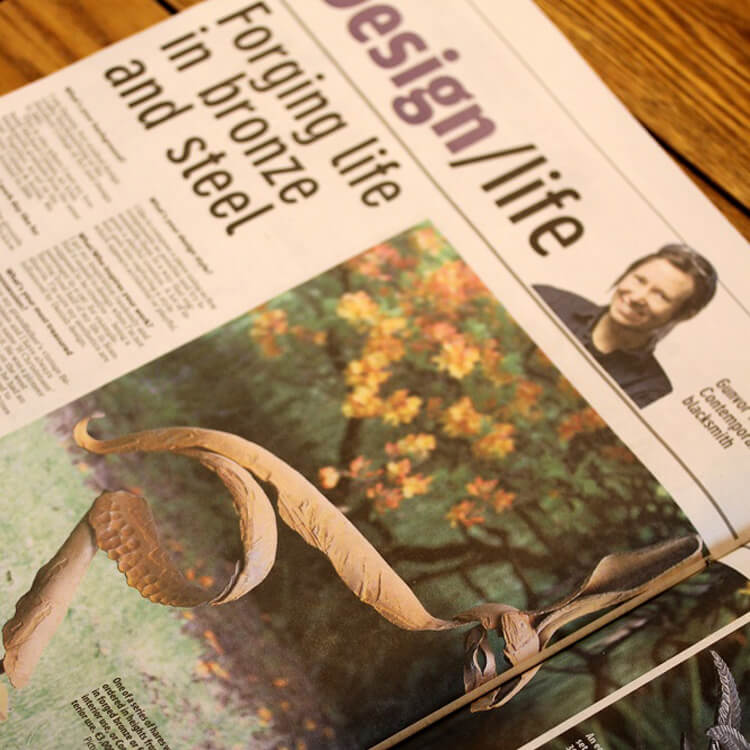 Irish Examiner, February 2017. Interview by Aileen Lee.

What's your background?
I am originally Danish but studied in England achieving a HND in Three Dimensional Design Crafts / Blacksmithing at the Hereford College of Art and Design in 2001. This is also where I met my husband Michael Calnan – an Irish blacksmith graduate from the same year – together we set up the company Calnan & Anhoj. Our first studio was situated in historic surroundings of the Victorian 'Llanthony Warehouse' at the Gloucester Docks. Business start-up is never easy, but having a design / crafts based business in England at the time proved good. We were exhibiting at a number of Cotswold galleries and at the RHS Chelsea Flower Show. We also established relationships with private clients some of whom have continued to work with us since we moved to Ireland in 2009.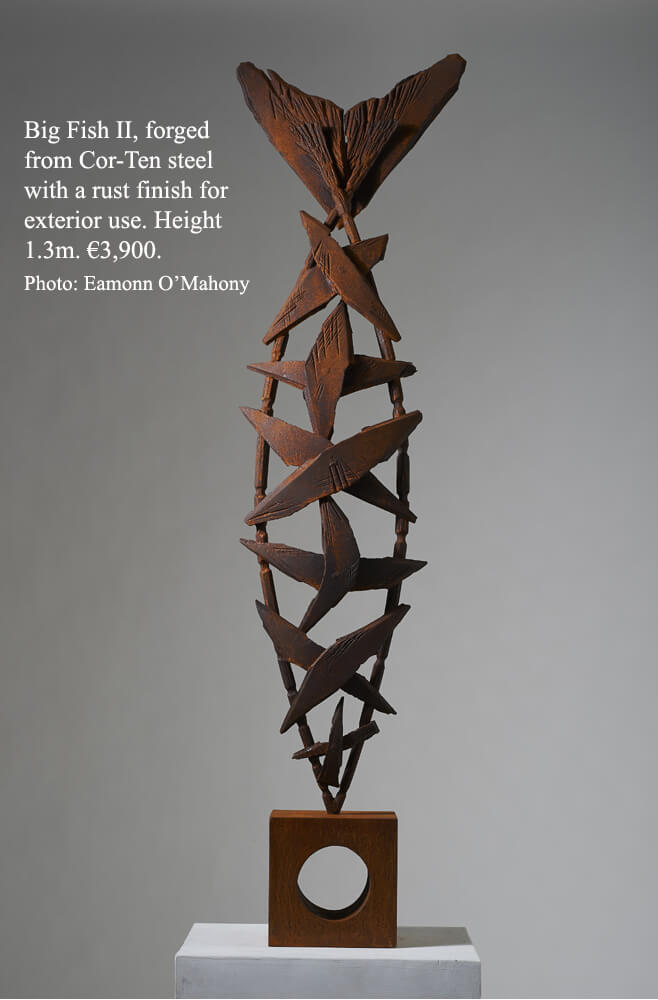 What's a typical work day like for you?
Our current studio is based on the grounds of Russborough House, Co. Wicklow. We also live on the grounds, so after sending the kids off to school, the day starts with a walk to the forge along 'the longest facade in Ireland'. As Russborough also holds a most spectacular view of Wicklow's rugged mountains, commutes don't come nicer than that!
Once at the forge, I start out lighting up the coke hearth. It takes about half an hour to get ready, so that's a good time to sketch or plan the days work. Typically the making process is split between the use of traditional and contemporary techniques. The best days involve time at the hearth, hand forging or using the power-hammer (a 1950's machine for industrial smithing) As we mainly create sculptural work and one-off commissions, each piece is typically very labour intensive. We have a little gallery set up next to the forge and have rigged up a bell-pull for customers to 'ring for service' – a welcome break!

Tell us about a recent project or design/ favourite project or design you have worked on?
Last year (2016) we were approached by the New York City Saint Patrick Day Foundation to create a sculpture to be presented annually at the parade gala dinner. Our contact was Christopher Hyland, a highly successful New York based textile merchant (who is also a designer, writer and politician) and together we created 'The Saint Patrick'. The piece portrays the essence of a swan through the use of carefully pared-down design elements, feather-like textures and attentive use of negative space. It was based on an existing sculpture of mine, a swan that had come about through 'designing intuitively' at the forge, using some found 50 year old tooling as a starting point for the initial design initiative. Alongside Michael and the client we refined the design and included the addition of 22-carat gold leaf. It was such a great honour to work on this project, not only will the swans be awarded to selected honorees every year from now on, it was the year in question of course – 2016 – that made it extra special. The recipients of 'The Saint Patrick 2016' which were titled 'for Peace in Ireland' included those who played a significant role in the Irish peace process. Parade Grand Marshal Senator George J. Mitchell, as Chairman of the peace negotiations which led to the Good Friday Agreement and also congressman Bruce Morrison, Niall O'Dowd, Brian O 'Dwyer, Charles ('Chuck') Feeney, Christopher Hyland, William J. Flynn, John Fitzsimons.
It was fantastic to watch Senator George Mitchell receive the award (on-line from our couch!) His one being forged in solid bronze was extra weighty – but he managed to carry it gracefully – and we got a hand written thank you note from him in the post later which is much treasured.

What's your design style?
I aim for designs that have visual impact through an equal blend of shape and surface. Rustic textures in elegant form is my 'signature style'. I like to compose a piece using as few components as possible and also try to assemble them in a way that suggests a playful creation. A lot of intent goes into capturing a style which appears accidental or playful! There is always a fine line between expressing the initial idea versus dulling it down by over-thinking or over-working it. Forging metals versus casting them, facilitates a short moment in the making process where the material – through heat – is at its most malleable and whatever tool impacts the surface at this time makes a permanent impression. This creates a sort of 'impact texture' which captures the unrefined earthiness of the raw material.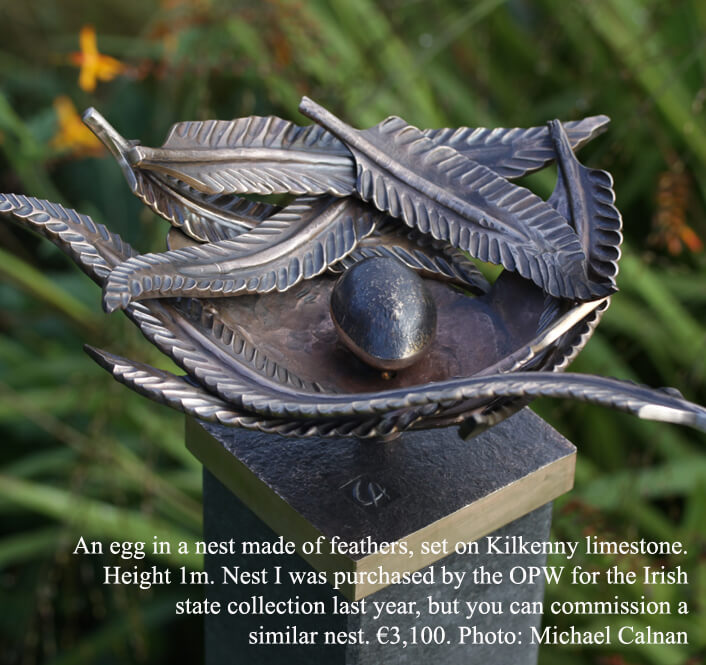 What/Who inspires your work?
I get my inspiration randomly and find it easiest to design when I'm not supposed to be creative, being a passenger in a car for example is a good one. Having lived half of my life in Scandinavia, I'm sure my aesthetics are influenced by Danish design. Designing and creating is like summing up what you like and what you want to say on a daily basis, sort of leaving your mark on the world
.
What's your most treasured possession?
I have my grandfathers vintage Bézard compass and I have always loved it as his name 'H. Christensen' is embossed into it. He was a bit of a pioneer and a business man on the west-coast of Denmark where he had an engineering company which I loved to visit as a kid with all its machines and smells of metals. I have brought this compass with me on some of my unusual journeys such as when I walked from one end of Denmark to the other on a sort of pilgrimage and also when I traveled on my old Enfield motorbike to attend blacksmithing college in England. I actually don't know how to use the compass but that isn't the point!

Who would be your favourite designer, or style inspiration?
My favourite artist is Beverly Pepper, a pioneer for women in the arts back in the 60ties and regarded among America's greatest living sculptors. She exhibited alongside Henry Moore, Alexander Calder and David Smith, all accredited artists that have long passed away. Beverly however is still going strong and making sculpture at the age of 94; she recently set up her studio with wheel chair access just in case! Iron, in particular, has been a favourite medium in her five-decade career and I love the way she once said: " People don't think iron can be poetic, but even a human tear has iron in it"

What would be a dream project for you to work on?
I would love to be offered to create large scale sculptures for an urban sculpture park somewhere in the world…