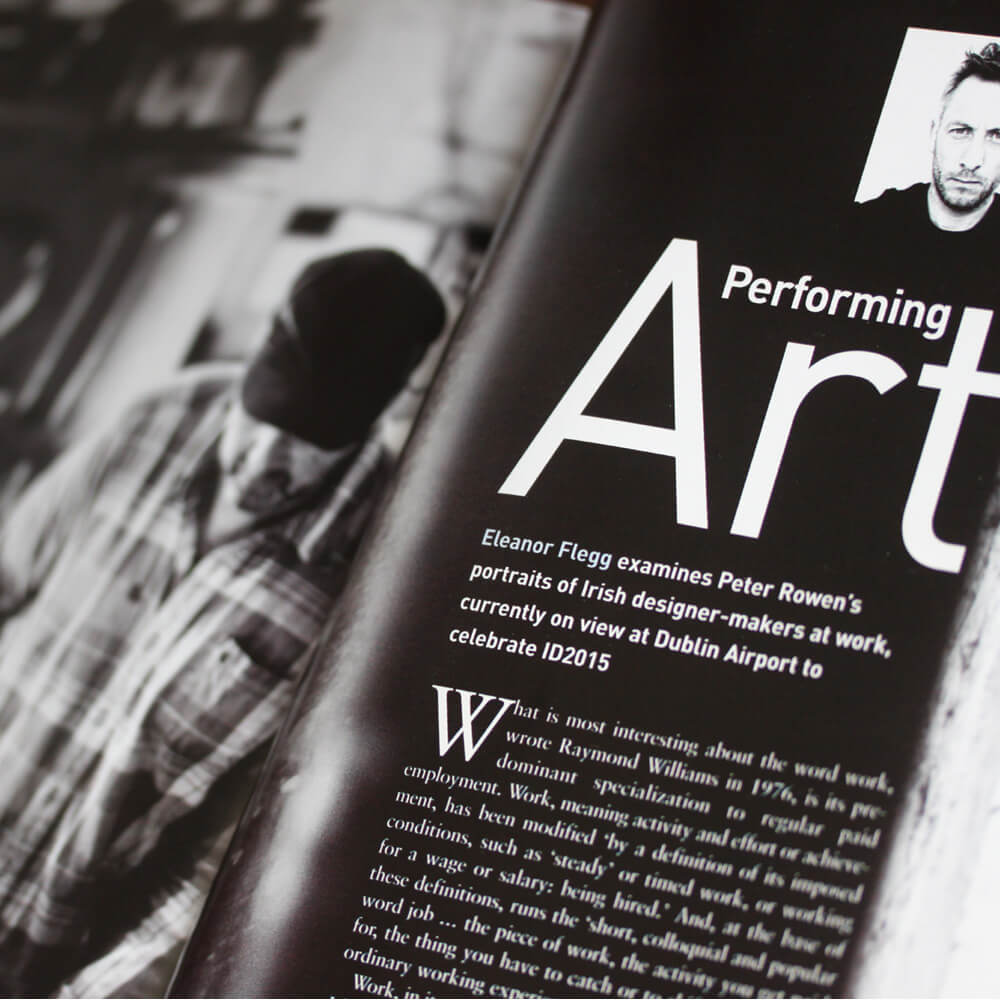 Irish Arts Review March 2015
Eleanor Flegg examines Peter Rowen's Portraits of Irish designer-makers at work, currently on view at Dublin Airport to celebrate ID2015.
What is most interesting about the word work, wrote Raymond Williams in 1976, is its predominant specialization to regular paid employment. Work, meaning activity and effort or achievement, has been modified 'by a definition of its imposed conditions, such as 'steady' or timed work, or working for a wage or salary: being hired.' And, at the base of these definitions, runs the 'short , colloquial and popular word job… the piece of work, the activity you get paid for, the thing you have to catch or to shift or to do, the ordinary working experience.'
Work, in its wider aspect, is the central theme of 'Design Island', a photograpic exhibition by Peter Rowen at Dublin Airport. The images show people making things: Philip Cushen teases strands of woll; Ian Walton inspects a watch. Various in their perspectives, the photographs share a sense of concentration. The act of work is an absorbing one. It requires focus.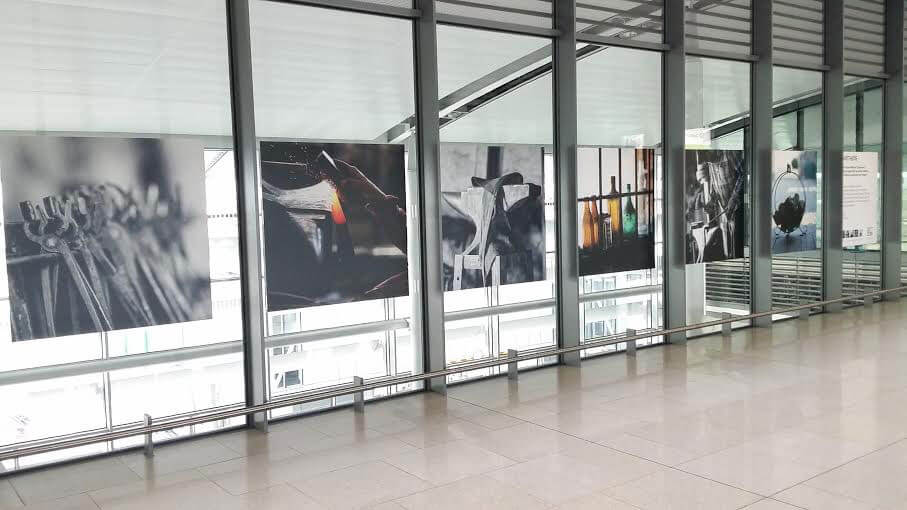 Rowen's photographs were taken in workshops and studios around the country; there are 300 in all, printed in large format and strategically placed throughout both Terminal 1 and Terminal 2. The project is part of the programme for Ireland's Year of Design, ID2015, an initiative of the Design and Crafts Council of Ireland and funded by the Department of Jobs, Enterprise and Innovation, the Department of Foreign Affairs and Trade, and Enterprise Ireland. It's worth keeping this stream of funding in mind. ID2015 often appears in fancy clothes – it's a design event after all – but it's objective is the creation of jobs. In this context, Design Island can be seen as part of the process that supports an industry by creating a narrative around it. And the story, in this instance, is The Elves and the Shoemaker (worthy tradition is boosted by new magic, the rich man gets his shoes, and everyone is rewarded).
The subjects were chosen to reveal the length and breadth of design in Ireland. They include large businesses and one-man-shows, famous designers and students, traditional crafts, industrial manufacture, emerging technologies, and disciplines like engineering that are rarely considered under design's wide umbrella. Some of the images, like those of Cushendale Woollen Mills abd Jerpoint Glass, predate the project. Others have not been seen before. The colour photographs of the original brief are interspersed, at Rowen's suggestion, with images in black and white. They create a sense of timelessness, reminiscent of David Shaw Smith's Hands series for RTE which helps to bridge the old and new traditions.
Their placing in Dublin Airport, where they replace Kevin Abosch's Faces of Ireland (2011), is crucial to their impact. Unlike a white cube gallery, designed to limit exterior stimuli, the airport is a venue laden with baggage. Arrival and departure are emotive concepts. The corridors that facilitate airport travel are liminal spaces; places where weariness or excitement may tear a hole in the defences that we place between ourselves and the world. As advertisers and tourist agencies have long been aware, there are moments in the most ordinary journey when a country may be bought or sold. In 2015, many of the heightened emotions felt at Dublin Airport may be to do with work, or the lack of it, in Ireland. It's a sensitive topic, and one that is one many people's minds. ' Unemployment is one symptom of the deep imaginative failure of modern society,' wrote Roger Coleman in the depths of 1980s recession. 'Before we can put people back to work we have to rethink what we mean by work and how that affects the details of our lives. We have to put creativity, imagination, innovation and invention back to work and back into work, and to do that we have to start somewhere.' The process of economic recovery requires healing, at some societal level, of what we might imagine our lives to be, and the creation of a positive narrative around work is part of the process. Design Island, is art in the service of a society pulling itself up by its bootstraps.
The journey, in every sense, is a long one. On arriving at Terminal 2 one travels a corridor approximately the length of O'Connell Street, and this is punctuated by images in groups of six or four, each series related to a particular design business. Some are portraits; others are unselfconscious moments in the working day. A worker is caught staring into the distance, elbow propped, the white wires of earphones coming from his ears. The planks on which he leans are neither raw material nor finished object, although they are on their way to becoming a piece of furniture from the studio of Joseph Walsh. Although Walsh himself was photographed, his portrait is placed elsewhere and the series of images relating to his workshop do not show the designer-as-hero. Kenta Hirai, the man with the earphones, is an employee in Walsh's Riverstick studio. It's a refreshing counterpoint to the types of design writing that focuses on the celebrity designer with no indication that design is an iterative process. In the same way, Rowen's photographs of objects are often captured in their half-formed state, embryonic things in a moment of manufacture: an unfinished drawing, an abandoned pencil, a skein of wool or a lump of clay. Often the object itself offers few clues as to what it will become. Sometimes the images focus on the means of production, the dignified machinery of textile production or, in smaller enterprises, the tools of the trade. The focus, on either case, is on the process rather than the product, on design as a activity rather than an outcome.
Rowen, who considers himself a commercial photographer, took a pragmatic approach. 'I had three hours with each of the studios,' he says. 'I went out there and did my best. I hadn't realised that there was so much design activity around the country and that people were making things to such a high standard in Ireland. It's the story that makes the photographs.' Much of the effectiveness of the exhibition depends on Rowen's considerable ability to capture unguarded moments. His backstage images of London Fashion Week, in which the models are revealed as thin, exhausted, possibly exploited, children are deeply poignant. So too are many of his wedding photographs (the mother of the bride pours a drink of water from a tap; the best man knots the groom's tie). You imagine that these are the images that a client might be grateful for in the long run. Rowen also does centre stage. He has photographed U2 on tour on several occasions and one of his photographs became the cover of their live album U22: A 22 Track Live Collection from U2360 (2012), but his backstage images, which catch the band in rare moments of unselfconsciousness may be the ones that stand the test of time. His history with U2 goes back to his appearance on the cover of Boy (1980) and – grown and glowering – on War (1983). His brother is Guggi, artist and former Virgin Prune. 'There are ten of us in the family,' he comments, 'and none of us has ever had a proper job.' His sensitivity to work, in its wider and deeper sense, may be something to do with this.
Rowen has been photographed with U2 by Anton Corbijn, who he cites as one of his influences, particularly for the simplicity of his approach. 'I love the idea of going to a job with one lens, one camera, simplifying the whole process. When I went around the studios for this project some of the people weren't particularly comfortable being photographed in these situations at all. If you keep it simple you get a better result. The more people you show up with on a shoot the more intimidated people feel.' For this reason, the Design Island project was undertaken without an assistant, using available light. Although this was an expedient choice, the plainness of the lighting adds something to the photographs. less contrived than studio shots, they carry a sense that significant moments may often be the ones that we are unaware of at the time.